* Ask about our High-Speed WiFi for an additional $25/day
(2) Hair, Makeup and Wardrobe Combo
Certificate of insurance & rental contract required on every vehicle. Click here for Details.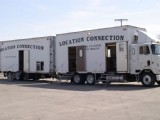 Rental Price: Call for Pricing

This 75ft Combo Unit consists of a 40ft wardrobe trailer and a 30ft hair / makeup trailer with five-stations for hair / makeup as well as one additional hair-washing station. It is equipped with air-conditioning and has its own generator or can be run off of a base camp package.